Brime and Doc, Rumor Roundup!
Nooooooo…bs! Yesterday. Had. So. Many. Rumors!
If you read What is DrDisrespect Brime? you're probably aware there are a lot of rumors going on about DrDisrespect and new streaming platform called Brime.
If you're not aware, either read that article, or refer to this 4chan screenshot and you'll be all caught up.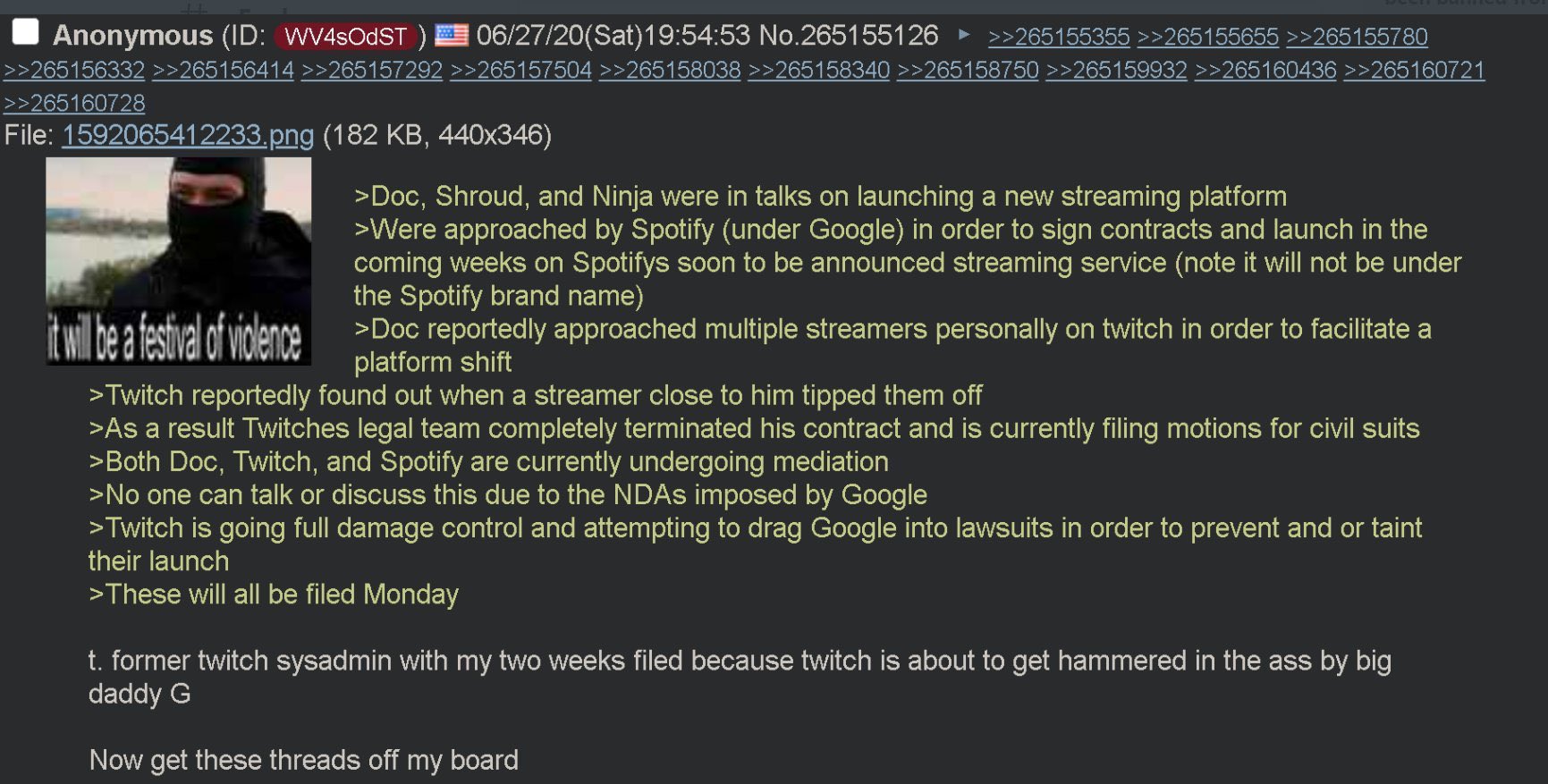 Since this happened, we found a few things. Brime, which is a concept only Twitter account started blowing up on Twitter. https://twitter.com/WatchBrime
There was a lot of growth that happened, with no real product. But then we start to see some conflicting information.
But things get weirder, we see this YouTube video come up from the BrimeEU account.
That's almost it on Brime! Really there isn't much more to report on Brime. They're really new, and who knows what is official. Overall, there is potential for a lot of viewership to pass to this platform, but right now they have nothing.
With that in mind, there is one thing that is really clear to me with these rumors. People are looking for a new platform. People want to live stream and grow on a new platform to stand out, and people want to actually see new content as well.
Really that is it for Brime. But, there more that came up yesterday with SpotifyGames and DrDisrespect.
What is SpotifyGames?
TL;DR; it is nothing, at at least nothing official yet.
This Twitter account popped up unverified yesterday. The Twitter at a glance seems sketch, but if you look at the link it was a valid link that redirected to spotify-gaming.com.
Unfortunately, in the WebArchive you can see this is a very old redirect with Spotify.
Since then, the account has been terminated and restricted.
So, I won't say Spotify Gaming won't happen. But, its definitely not here yet. But, after that where does that leave DrDisrespect?
It's still unknown. Sadly, the only official news we have is this tweet.
So Now What?
Really, there isn't much to wait for. Personally I got swept up in the rumor mill, and I don't feel bad because it was fun chatting with others on Twitter. But, we don't know anything until its official.
Could there still be a streaming platform Ninja, Shroud, and DrDisrespect are working on? Maybe.
Could DrDisrespect be banned for something more humanly unjust? Maybe.