What is Brime and Will I Switch?
EDIT: This story has been updated. Check out the latest. And if you want to keep up, follow me at twitter.com/kamorigoat.
Hey Nooberitos! These last 2 weeks have been super exciting and eventful! Over the past 2 weeks, we've seen Mixer Shutdown, I'm Trying Trovo, and DrDisrespect got banned.
But, it seems the news isn't done. Rumor has it, part of the reason DrDisrespect got banned was that he was found to be creating a new streaming service with Ninja, Shroud, and Spotify. That new service will be called Brime.
Now, I want to make something very clear. Right now these are all rumors. Brime has nothing to show, and it seems there is nothing concrete tying this back to Spotify. The rumors really go back to a 4chan post. And as always, don't believe everything you see on 4chan.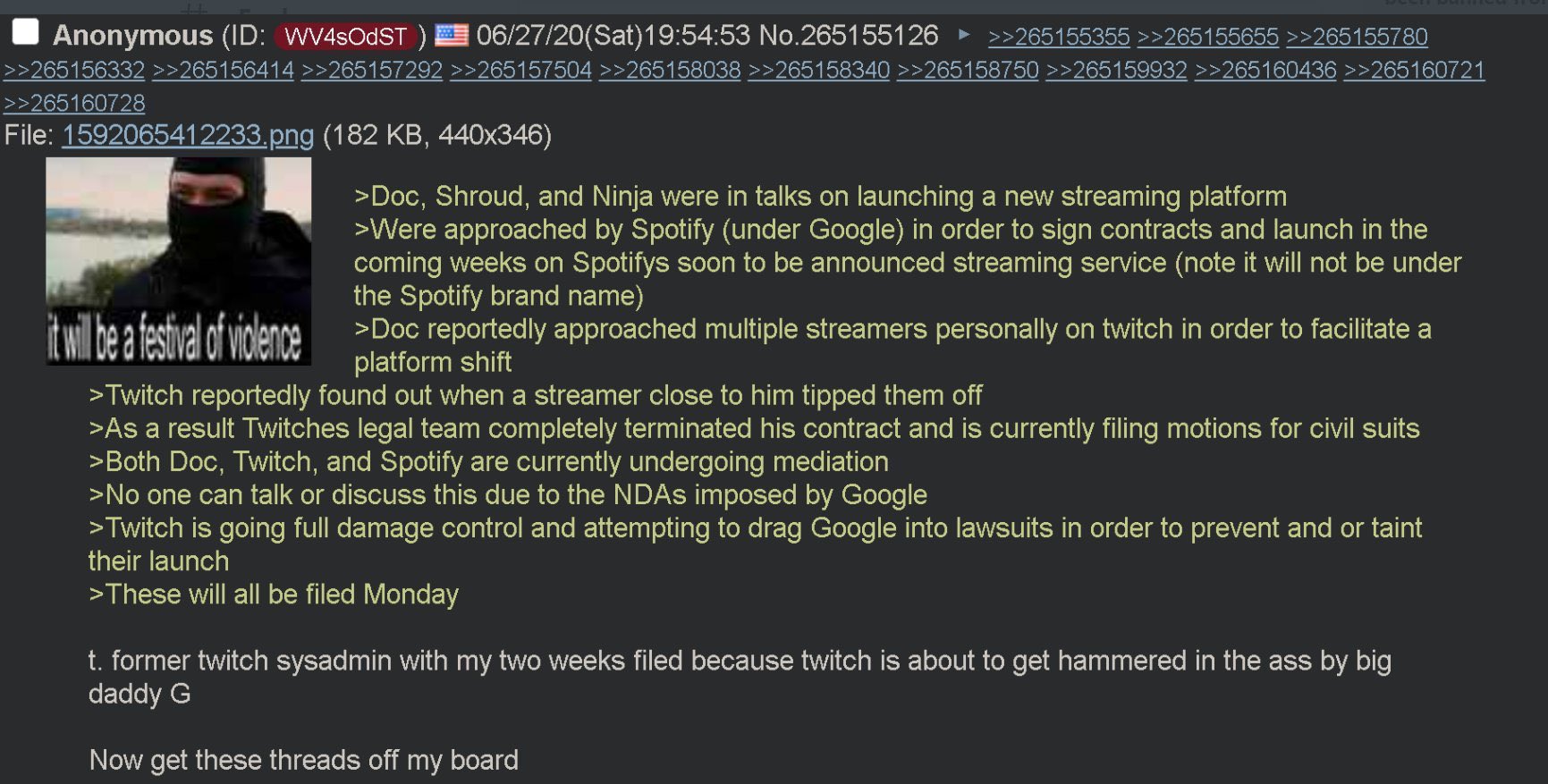 There is a lot to unpack here. As Google does NOT own Spotify, if Spotify were to be making a streaming service, it would be in direct competition to YouTube. This doesn't mean they can't work together, but right now this post already seems a little sketch.
Now, I'm an optimist, I want this to be real because its exciting! Personally, I made the move to Trovo, but I wouldn't be opposed to switching to a brand I'm more familiar with and more trusting of (Spotify). Here is some detail that might point toward Brime being real.
The Doc's overlay was updated a while back to specifically reference June 29th.
And Brime happens to be doing an announcement QA tomorrow as well.
Now again, this is nothing more than a Twitter account at the moment. It could be a Troll like the DrDisrespectLIVE Trovo account could be. Or it could be a legitimately real service. Time will tell.
Will The Stream Noob Switch?
So will I switch to Brime? The answer is possibly and probably. I'm not new to streaming, but I'm still at the beginning of my journey of taking it seriously. And I come from the school of thought to try many things. Obviously, you can't succeed if you never stick with anything. But, having a brand like Spotify backing my service brings me a lot more joy than a Chinese company Tencent.
So what would Brime need to get me to switch?
True backing from a familiar brand (Spotify or Google)
Good Channel Discovery
Easy to interact with Chat
Channel Customization (look & feel)
A Roadmap for the Future
Development APIs
One of my friends called me out for being a hopper, and to be honest that doesn't bother me. I feel like if anyone is considering this move, as long as they are aware there are pros and cons to their actions, I support them. Some people can grow on some platforms and fail on the others. Sometimes the best way to grow is to fail and fail fast. I won't say I'm failing on Trovo, but I am succeeding in using my other social media platforms to funnel my viewers to where I'm most actively at. If that is Trovo today and Brime tomorrow, that's fine by me! And as I get a user base to support me, I'll start sticking to a single location.
So what are you thoughts? Do you think Brime is legit? And if so, what would it take to get you to switch?